I fell in love with a world
through her eyes.
Atticus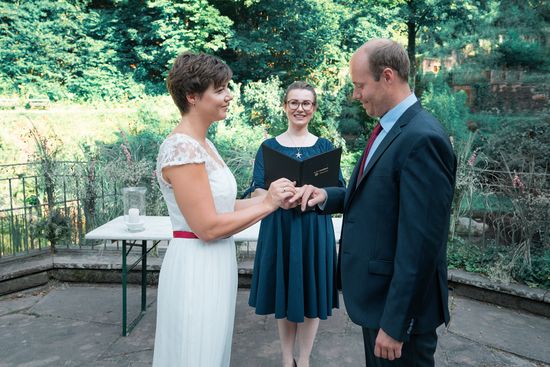 Wedding Ceremony with Wedding Celebrant Stella in the Restaurant Wolfsbrunnen. Pictures by Wedding by Gerald.
Being a wedding celebrant means to take the couple and their guests by their hands and to take them into a world full of love, magic, laughter and romance. I consider it to be an honor and a privilege to witness and affirm the love of two people, the joining of two lives and two families. One of those truly unforgetable weddings, I had the privilge to hold, was the ceremony of Lisa and Oliver. It was such a pleasure to meet them, to hear their unique love story and to write their one-of-a-kind ceremony that reflected their story, involving their adventures and their thoughts on their love and their life. 
The day of their ceremony itself was so special - it was a very hot evening in July. But when I drove up the mountains of Heidelberg to reach Restaurant Wolfsbrunnen, where the ceremony was to take place, the heat decreased until it was so pleasant and soft, because the woods around Wolfsbrunnen create an atmosphere, that is absolutely unique and beautiful. 
When the sun started to go down and gave the place next to the Restaurant where the ceremony was about to start an atmosphere as if it was bathed in golden light, Lisa and Oliver came - it was an overwhelming moment to see the beautiful bride in her gorgeous dress, smiling and full of happiness. It was a very intimate wedding and it was so touching to be able to interact with each of the guests and of course with the couple itself, to see and to feel their emotions and to be part of their story, and, of course, to be able to walk by their side for a few steps of their life. 
We had such a beautiful time together and I am grateful for the moments we shared!
I hope you enjoyed this little glimpse into my world as a wedding celebrant and into the wedding ceremony of Lisa and Oliver.
Wedding Celebrant Stella