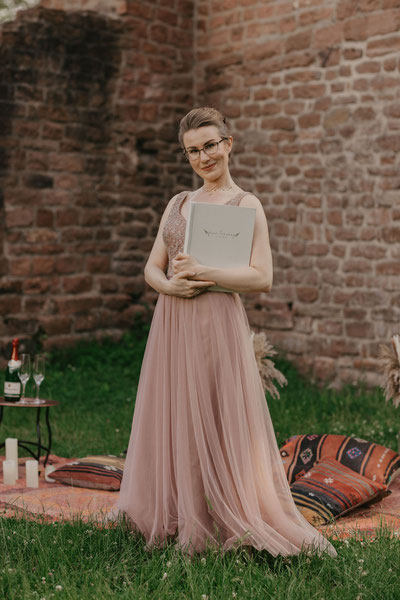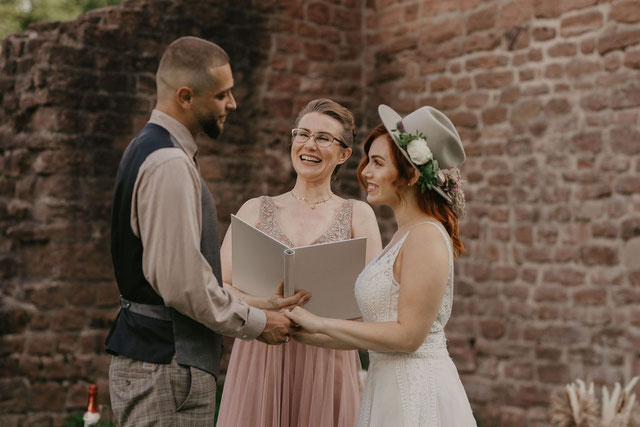 Have you ever dreamed of eloping to Germany? A great idea! Here you can celebrate your love amidst the majestic mountains of the Alps, in the Schwarzwald and so many places more - in ancient castles surrounded by nature and parks - and of course in romantic manasteries. Let me show you some inspirations with our photos from an intimate boho elopement wedding in the Michaelskloster in Heidelberg!
A symbolic ceremony is perfect for you, if you are planning to get married in Germany, because you can plan everything relaxed from home via Skype with me as your wedding officiant and make history together, when you come here to celebrate your love, your story and the first chapter of your lives as a married couple. But of course you can have your civil marriage here, too, if you would like to have a legally-binding civil union in addition - although it is much more relaxed to do the paperwork at home first, so you can simply enjoy your wedding and then start your honeymoon right away.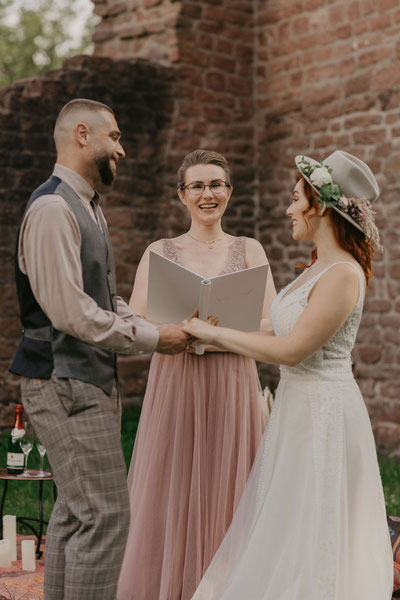 One of the great advantages of a symbolic ceremony is, that already during the time, we are planning your ceremony you can immerge into everything that makes you feel that commitment, that gives you the feeling, that it is right to say yes to each other! We will take time to talk about that first moment you knew, she is the one or the moment, he took your breath away by making you feel the way nobody did before. Would you like to see a personal wedding vow based on the story of a couple that I've written (of course this is just an example - and of course you can write your own personal wedding vows for the ceremony - I love to hear them!) - Let me show you:
My dear Ava, from the very first moment, I looked into your eyes, saw your smile - I knew how much I love you. Nobody can tell today, how our lives will look like - but I promise with the words of our favourite song: Ain't no mountain high enough. Ain't no valley low enough. Ain't no river wide enough to keep me from getting to you, Baby. I promise to be there - to listen to you, to hug you, to support you - or to make our favourite frozen yoghurt while watching some Disney movie. I want to travel the whole world, just bevause I love to see that light in your eyes when you smell fresh cofee in Vietnam or watch the sun rise over the vast plains in Namibia. Man, those moments are magic! I want to live with you. I want to grow old with you - and I want to start every morning with a kiss on your forehead and go to bed in the evening holding you in my arms - for the rest of my life.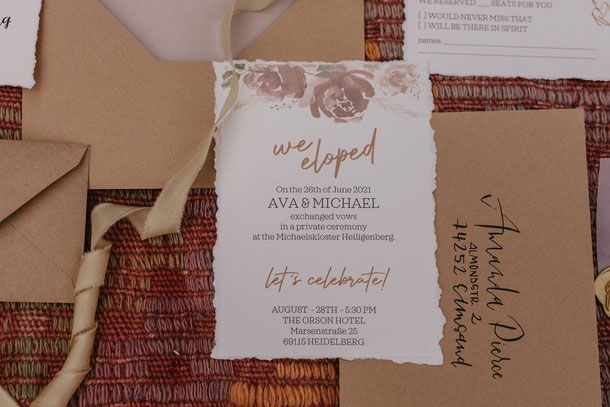 How does the process look like, if you are going to celebrate with me as your wedding officiant?
1. Let's meet via Skype - I would love to meet you, to get to know you and of course to answer all your questions, to introduce myself and show you my world of ceremonies.
2. You would like to spend the time with me, travelling through your story and back to all of those moments that created that strong bond between the both of you? Great! I am excited to start and plan your wedding!
3. My famous little questionnaire. I will send you a questionnaire first, so you can figure out for you, if you would like to have music during your ceremony, if you would like to exchange rings, to celebrate a handfasting or exchange vows etc.
4. The individual interviews: We will have two individual interviews. Because there are things you normally do not speak a lot about, but that are so important for your relationship - like: What is the trait of character, you fell in love with? How can your partner cheer you up on those - let's say - "difficult" days, when it is hard to do anything else but hiding under a blanket.
5. Our interviews with the three of us: I am excited to listen to your story - how did you meet? How was the proposal? What do you enjoy most in your daily life?
6. Planning the ceremony: Now I start to write your story! And I love those silent hours in my little room where your words, your memories condense into a story of your life we are going to celebrate!
7. Your wedding day has come! Yay! I put everything into my car - and here I am on my way to celebrate with you!
8. The Wedding Celebration: Together we immerse into everything than led to that moment where you stand in front of each other, knowing, you want to spend every day, that is yet to come together.